Robin Lim has been chosen as a Top 10 CNN Hero!
Vote
her, so she can be the CNN hero of the year!
Mother Robin," or "Ibu Robin" as she is called by the locals, is working to change that with her Yayasan Bumi Sehat (Healthy Mother Earth Foundation) health clinics. These birthing sanctuaries offer free prenatal care, birthing services and medical aid to anyone who needs it.
Robin Lim adalah seorang penulis, pembicara dan aktivis di bidang yang berkaitan dengan kesehatan Ibu dan anak. Oya, dia juga ikut terjun langsung membantu para Ibu melahirkan. Ia sendiri dibesarkan di Filipina, dan ayahnya sempat ditugaskan di Indonesia. Nah, dia itu berkewarganegaraan Amerika, namun ia memutuskan untuk pindah ke Bali bersama suami dan anak-anaknya.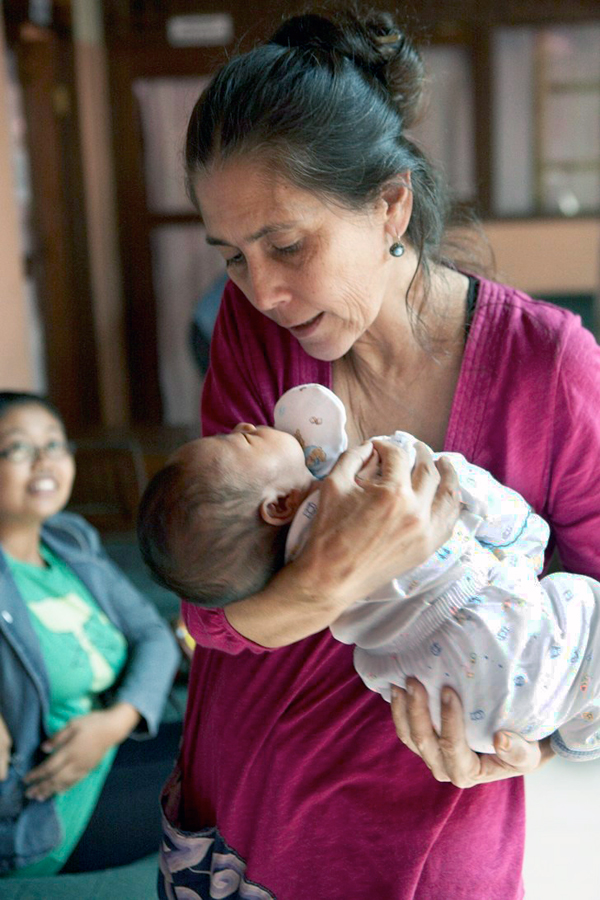 Lalu, di Bali itu ia mendirikan klinik bersalin yang melayani dengan setulus hati, tidak memaksakan bayaran pada pasiennya, bahkan orang miskin saja tidak perlu bayar biaya persalinan. Robin Lim sendiri berusaha menghindari fakta umum di Indonesia, bahwa anda baru bisa menggendong bayi anda saat biaya persalinan sudah lunas. Oya, dia juga buka klinik bersalin di Aceh lho. Dan kerennya, Robin Lim itu berusaha melayani pasien-pasiennya dengan sebaik mungkin, tidak peduli apakah dia itu selebritis atau psk. Bahkan, Oppie Andaresta dan banyak kalangan atas yang senang melahirkan di kliniknya Robin Lim dan banyak dari mereka yang ikut menyumbang demi kelangsungan klinik ini.
Dengan nge-voting Robin Lim, kita bisa membantu klinik bersalin 'Yayasan Bumi Sehat' milik Robin Lim lebih berkembang dan kita juga bisa membantu lebih banyak Ibu di Indonesia melahirkan dengan selamat tanpa harus mengkhawatirkan soal biaya. Satu suara bisa merubah segalanya. Semangat!
Indeed, I think her quote is the strongest quote between the other candidates of the CNN hero of the year.
(for the full biography, you can read it
here
)
xo,
Bewew